Are you craving a mouth-watering dish that's easy to make and delicious? Look no further! Today, we'll dive into the world of creamy shrimp pasta and show you how to create this unique dish in your own kitchen. So, grab your apron, and let's get started!
Ingredients You'll Need
To whip up this delicious meal, you'll need the following ingredients divided into three main components: shrimp, creamy sauce, and pasta.
For the Shrimp
1 pound large shrimp, peeled and deveined
2 tablespoons olive oil
Salt and pepper, to taste
1 teaspoon paprika
1 teaspoon garlic powder
1 teaspoon onion powder
For the Creamy Sauce
2 tablespoons butter
1 cup heavy cream
1/2 cup grated Parmesan cheese
1/2 cup grated mozzarella cheese
2 cloves garlic, minced
Salt and pepper, to taste
For the Pasta
8 ounces of linguine or your favorite pasta
Salt, for boiling water
4 quarts water
Step-by-Step Instructions
Now that your ingredients are ready let's dive into the cooking process!
Step 1: Preparing the Shrimp
First, rinse the shrimp under cold water and pat dry with a paper towel. In a bowl, toss the shrimp with olive oil, salt, pepper, paprika, garlic powder, and onion powder. Set aside.
Step 2: Cooking the Pasta
Bring a large pot of salted water to a boil. Add the pasta and cook according to the package instructions, usually around 8-10 minutes for al dente. Once cooked, drain and set aside.
Step 3: Making the Creamy Sauce
In a large skillet, melt the butter over medium heat. Add the minced garlic and sauté for about 1 minute or until fragrant. Pour in the heavy cream, stirring constantly. Bring the mixture to a simmer and add the Parmesan and mozzarella cheeses. Continue stirring until the cheeses melt and the sauce thickens. Season with salt and pepper to taste.
Step 4: Combining the Ingredients
Add the seasoned shrimp to the skillet with the creamy sauce. Cook the shrimp for 2-3 minutes per side or until they turn pink and are cooked through. Be careful not to overcook them, or they'll become rubbery.
Step 5: Garnishing and Serving
Finally, it's time to plate up your masterpiece! Divide the creamy shrimp pasta among serving plates or bowls. If you'd like, you can sprinkle some chopped parsley or basil on top for a pop of color and extra flavor. You might even want to add a little extra Parmesan cheese because who doesn't love more cheese?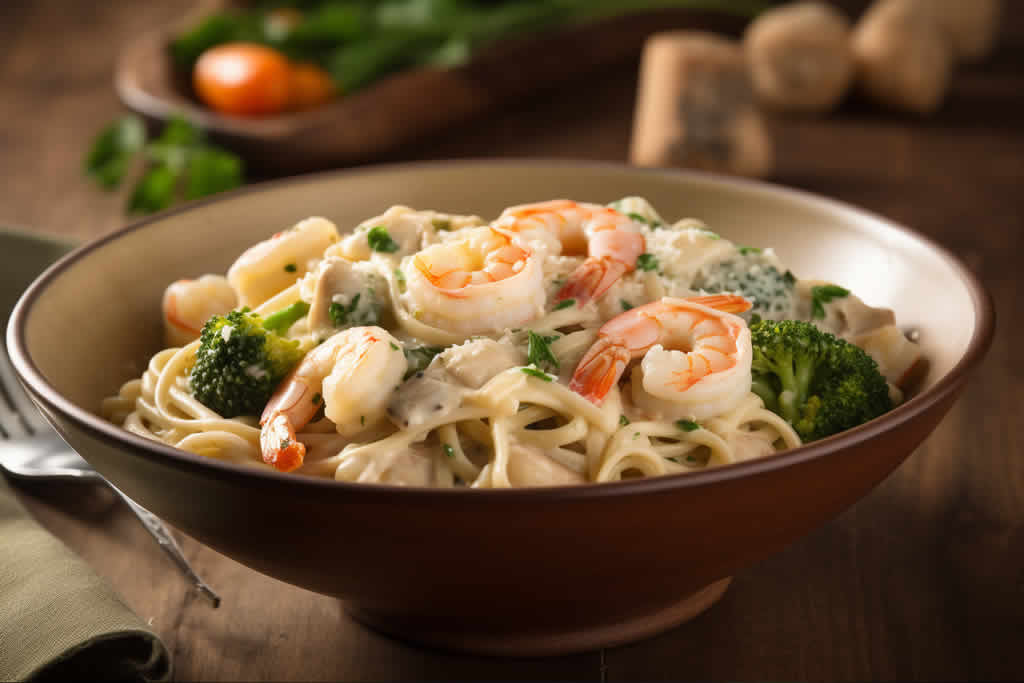 Tips and Tricks for a Perfect Creamy Shrimp Pasta
To make your creamy shrimp pasta even more amazing, here are some helpful tips and tricks to keep in mind.
Choosing the Right Shrimp
When shopping for shrimp, try to find fresh, sustainably-sourced options. If you can't find fresh shrimp, frozen ones will work, too – make sure to thaw them properly before cooking. More giant shrimp are ideal for this dish, as they have a meatier texture and hold up well in the creamy sauce.
Cooking the Pasta to Perfection
Follow the package instructions for cooking times to ensure your pasta is cooked just right. If you prefer your pasta al dente, which means it's cooked but still has a slight bite, you'll want to reduce the cooking time by a minute or two. Don't forget to salt your pasta water – it helps to enhance the flavor of the pasta.
And that's it! With these simple steps and tips, you'll be well on your way to creating a restaurant-worthy creamy shrimp pasta dish that will impress your family and friends.
Conclusion
Now you know how to make a mouthwatering creamy shrimp pasta perfect for a weeknight dinner or a special occasion. Follow the step-by-step instructions, and you'll enjoy this delicious dish quickly. Don't be afraid to get creative with your ingredients and sauce consistency – it's all about finding what works best for you.
More Questions:
1. Can I use a different type of pasta for this dish?
Absolutely! While linguine works excellently, feel free to experiment with other types of pasta like spaghetti, fettuccine, or even penne. The key is to choose pasta that will hold the creamy sauce well.
2. How can I make this dish gluten-free?
To make this dish gluten-free, replace the regular pasta with a gluten-free variety, and double-check your other ingredients to ensure they're also gluten-free.
3. Can I use pre-cooked shrimp for this recipe?
Yes, you can use pre-cooked shrimp, but the final result may not be as flavorful as using raw shrimp. If using pre-cooked shrimp, skip the step where you cook the shrimp in the creamy sauce, and add them in at the end to warm them up.
4. What can I serve with creamy shrimp pasta?
A simple green salad or some crusty garlic bread makes an excellent side dish for creamy shrimp pasta. Alternatively, you can serve it alongside some steamed or roasted vegetables.
5. Can I store and reheat leftovers?
Yes, you can store and reheat leftovers. Place the leftover creamy shrimp pasta in an airtight container and store it in the refrigerator for up to 3 days.
You May Also Like: